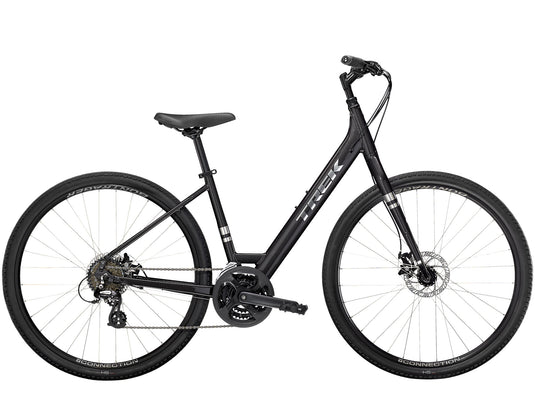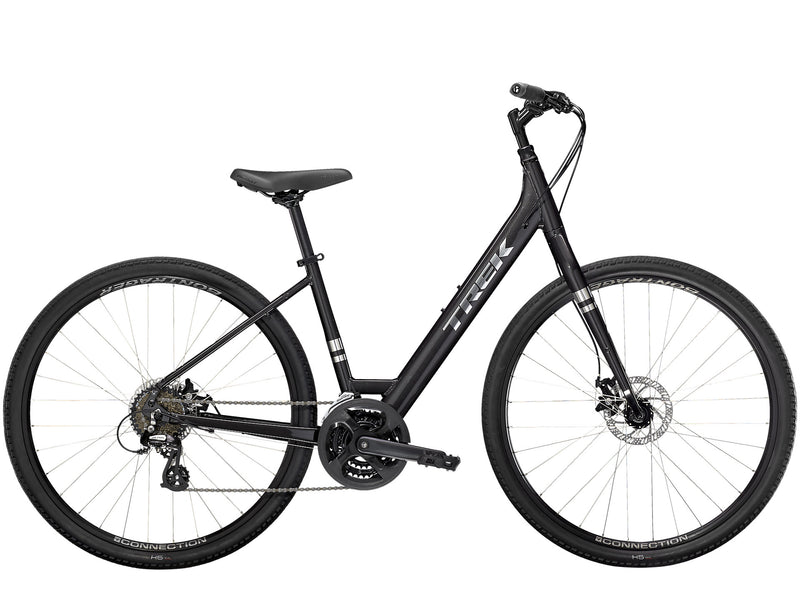 Verve 1 Disc Lowstep is an introductory hybrid bike designed for comfort and confidence on recreational rides. It has a lowstep frame that makes it easy to mount and dismount, disc brakes that provide stopping power in any weather, and wide tires for extra stability. This ride is dependable, affordable, and full of features that make for comfortable everyday adventures.
IN-STORE PICKUP ONLY. THIS ITEM CANNOT BE SHIPPED. 
OUT OF STOCK BIKES CAN POSSIBLY BE ORDERED. CALL FOR ORDERING AND AVAILABILITY. 
Why you'll love it
Verve's upright geometry puts you in the perfect position to see the world around you
The lowstep frame design makes it easy to get on and off—no need to swing your leg over!
This bike brings people together—attach a trailer and tow your kids, meet up with friends to cruise the bike path, or commute to the office with coworkers
Disc brakes perform well in any weather, let you slow down or stop faster, and require less effort to activate than rim brakes
Like every Trek hybrid, it's backed by Trek's Lifetime warranty, which means you get a companion for life
It's right for you if...
Comfort is king. You want to ride roads and paths on a bike that keeps you in a more upright posture and has comfort-forward details like a padded seat and the widest, most stable tires in the hybrid bike family.
The tech you get
A lightweight aluminum frame with mounts for a rack and fenders, 21 speeds to help you conquer varied terrain, ergonomic grips, a Bontrager padded saddle, wider 45c tires for added stability, powerful disc brakes, and a geometry that keeps you in a comfortable, upright riding posture.
The final word
Verve 1 Disc delivers quality comfort at an unbeatable value. The lightweight frame, impressive braking power, durable parts, and comfort-forward design make this bike a great choice for anyone who wants to get more enjoyment out of recreational rides.